Become a Volunteer!
Loudoun Wildlife Conservancy is a diverse, nature-based nonprofit with a variety of opportunities to volunteer.
Program Volunteers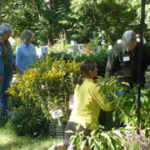 If you simply love Loudoun Wildlife Conservancy, or a specific program, consider being a support volunteer. Learn all about a program and its activities, and support its inner workings!
Current Positions and Projects Available
If you're interested in taking on a project with a flexible schedule from start to finish, or if you'd like to fill a vacancy, check out our list of current opportunities below.
Ongoing Spring Opportunities
March 14 – Habitat Restoration – Harrison St.- 9:30 am – noon Completed! Watch the plants flourish this season.
June 24 – Crooked Run "Bingo for Charity – 6:30 – 8:30 pm
Stream Monitoring Spring Volunteers 
Stream monitoring volunteering from the public cancelled due to social distance requirement of 6′.
Ongoing Program Volunteers
Nature Walker Leader, Program Assistant, Zoning Advocate, and Community Advocate
We have the roles above that match an array of interests. To learn more email volunteer@loudounwildlife.org.
You can also click here to apply. Remember to fill out the waiver form too.
Current volunteers, please enter your hours here.