Online Resources
eBird – this is the website where anyone can report the birds they observe. It has over a billion observations and is used by the majority of birders. You can search their dataset by species, region, year and many other ways to see what others have found out there. Plus, it's also a huge citizen science project, because scientists can draw freely from its data in their research. It also offers an app where you can keep track of birds while you're in the field and submit the checklist when you're done.
Merlin Bird ID App – Merlin Bird ID is an app that you can upload photos and sound recordings to for help in IDing the birds in them. The app analyzes the photos and recordings and generates a list of the likely species based on the photo/recording itself, the location and time of year.
All About Birds – This website has information about most species that are found in North America. Everything from photos and sounds to ID tips to life histories is available.
Birding Virginia – This site lists every eBird hotspot in Virginia and, for many, information about how best to bird it written by birders from the area.
Books: Bird Atlas and Field Guides
Birds of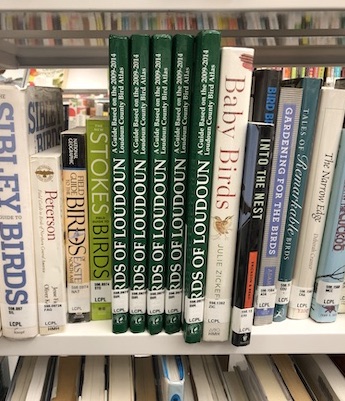 Loudoun: A Guide Based on the 2009-2014 Loudoun County Bird Atlas – Written and published by Loudoun Wildlife Conservancy. This is the definitive guide to birds in the county.
Peterson Field Guides – Since the first edition of Roger Tory Peterson's A Field Guide to the Birds was published in 1934, the Peterson Field Guides series has been a favorite of both birders and naturalists in general. The series has dozens of books authored by both Peterson and by other renowned naturalists.
The Sibley Guide to Birds – A family of guides written and illustrated by one of the world's foremost bird illustrators, David Allen Sibley. A favorite of many birders, this guide also has a fantastic app that lets you take the guide, and others by Sibley, with you anywhere.
National Geographic Field Guide to the Birds of North America – A guide to all birds occurring in North America, including rarities. Perfect for a trip out of the area.
The Warbler Guide – This book is a guide to all warblers occurring in North America. It includes accounts for each species and a series of photographic plates showing the warblers from different angles for easy identification. It is also offered in app form.
Organizations for Birders
ABA Young Birders – The American Birding Association's Young Birders offer many excellent programs, including birding camps and the ABA Young Birder of the Year Mentoring Program.
NVBC – The Northern Virginia Bird Club offers quarterly lectures and several bird walks a week, primarily in Fairfax, Arlington  and Prince William Counties.
ASNV – The Northern Virginia Chapter of the National Audubon Society offers programs and walks throughout the region.
VSO – The Virginia Society of Ornithology has three publications about birds in Virginia and offers field trips to the Outer Banks, Cape May and more.