Banshee Reeks Nature Preserve
Banshee Reeks, located in Leesburg, Virginia, was established as a nature preserve in 1999. The preserve is 725-acres with a variety of nature trails that are great for birding or just observing nature. Primitive camping is provided by permit to organized groups. Pets must be leashed at all times.
It has a great diversity of habitats ranging from wetlands and ponds to mixed hardwood forests of oak and hickory to wonderful meadows laden with milkweed, goldenrod and thistle. Loudoun Wildlife Conservancy and its members played an important role in establishing Banshee as a passive preserve, home to wildlife and refuge for all.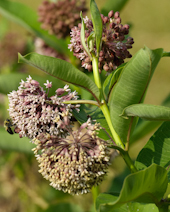 When to Visit
Hours: Banshee Reeks is open to the public 8:00 a.m. to 4:00 p.m. on Saturdays and Sundays.
Facilities: There is a visitor center with volunteers on hand on the third weekend of each month to answer questions, tell you about latest sightings, provide trail maps and lend field guides for reference. There is a restroom inside the visitor center and a port-o-jon outside.
Driving directions: Banshee Reeks is located at 21085 The Woods Road, Leesburg.