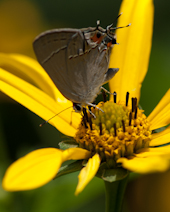 The Blue Ridge Center for Environmental Stewardship (BRCES) was founded in 2000 by the Robert and Dee Leggett Foundation. It is almost 900 acres of diverse habitat consisting of vernal pools, meadows, ponds, streams and wonderful forests. It serves as a wonderful sanctuary for Loudoun wildlife. There are also historic cabins and homesteads on the property in addition to a community farm.
The Blue Ridge Center has over 10 miles of well marked trails for birding, nature walks, photographing wildlife, and exploring archeological sites. After a nice walk, enjoy the bounty of vegetables from the working farm.
We always enjoy a diversity of birds on our Birding the Blue Ridge Center bird walks and see a wide variety of butterflies during our Annual Butterfly Count.
Loudoun Wildlife Conservancy also maintains two very successful bluebird nestbox trails at the Blue Ridge Center.
The Blue Ridge Center is part of the Virginia Birding and Wildlife Trail.
When to Visit
Hours: The Blue Ridge Center for Environmental Stewardship is open to the public
Facilities: There is a visitors center with rest rooms and there are cabins for camping. Click Here for the Trail Map