Loudoun Wildlife Conservancy president, Nicole Hamilton, is known for her extraordinary vision and her dedication to fostering events that invite, have purpose, and put a spotlight on wildlife…but did you know that she ALSO participates in many of these events? An avid birder, Nicole and her team of birders (the Raucous Robins) enthusiastically competed in this year's IMBD Birdathon. She tells us all about it in the following article. 
I will warn you…this read has the potential to spark binocular purchases and Bird Walk sign-ups.
So now, we give you Nicole Hamilton and the "Raucous Robins" IMBD REPORT!
Sarah Steadman
_________________________________________________________
Wow time really flew since our team went out for our big IMBD Birdathon day!  We want to thank all those who supported our team, and widely share a short summary of our 12.5 hour day.  In all we saw 90 species (the full list is below)!
Thank you all for rooting us on and showing your support both for our team and the work of Loudoun Wildlife Conservancy!  It really means a lot to us all! Attached are a few photos from the day as well — birds, glorious birds, and a sweet fox that was camera shy!
Raucous Robins Birdathon 2014!
May 3, 2014, 7:00 am to 7:30 pm
Team members: Joanne Bradbury, Mike Friedman, Tess McAllister and Nicole Hamilton
We started out the day at the Blue Ridge Center for Environmental Stewardship at 7am in order to make sure we got the warblers and vireos at their most active time.  We weren't disappointed. The birds were down low for most of the morning and were singing away. Gnats and Blue-gray gnatcatchers were a plenty. Northern Parulas were calling so heavily it seemed like they were everywhere!
As we got to the confluence of Piney Run and Sweet run we knew we needed to get a LA Waterthrush but before crossing the bridge we were delighted by a Kentucky Warbler at eye level singing and foraging. Then we crossed the stream and decided, "We'll just go see for a minute and then we'll turn back." Well as we stood on the other side, we had an incredible showing of birds!  Veery, American Redstart, Scarlet Tanager, Black-and-white Warbler, Wood Thrush and Black-throated Blue warbler!  They were beautiful! We never did get a water thrush during the day but what great views of these other birds.
Another highlight were views of a Barred Owl that seemed to be curious about what we were up to. We had just finished identifying a bird when Joanne looked up and said — "an Owl!"  It preened and cleaned its feet before taking off.
From the Blue Ridge Center, we went to the Dulles Wetland, Banshee Reeks and then to the Reservoir.  This was the tough part of the day when the birds have quieted down.  We really worked for each species, but ticked off Wood Ducks, Horned Grebe, Bald eagle, Osprey and even a Red-shouldered Hawk on a nest.
For the last part of our day, we visited the Broadlands Wetlands where we had Baltimore and Orchard Orioles (plus nest building), Green Heron, and peeps (Lesser Yellowlegs, Solitary Sandpiper, Least Sandpiper).
By this point it was getting harder to tick off new species, and there were some glaring omissions of common birds that we rather needed. So we headed to Bles Park and had a lovely walk and a temporary drizzle. Here we thankfully added the Indigo Bunting, but that was the only new species.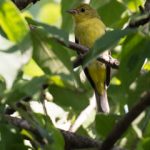 We were at 89 species and the team was determined to at least hit 90. One of the misses of the day to that point was a Red-tailed Hawk, and we all agreed that we couldn't go home having missed that…so we scanned the power lines as we drove Rte. 7 and there she was…."Hawk on wire," I called out…but it was on the other side of the road up an exit ramp. Do we turn back? Yes! Tess made the u-turn and off we went. There she was — species #90 for the day!
We had a great day and were so thankful to have all of you rooting us on through your pledges and sponsorships!  We look forward to next year and going beyond 90!
Good birding,
Nicole
Here is a full list of the 90 species that we tallied for the day:
Canada Goose
Wood Duck
Mallard
Common Merganser
Horned Grebe
Double-crested Cormorant
Great Blue Heron
Green Heron
Black Vulture
10.Turkey Vulture
11.Osprey
12.Bald Eagle
13.Coopers Hawk
14.Red-shouldered Hawk
15.Red-tailed Hawk
16.Spotted Sandpiper
17.Solitary Sandpiper
18.Lesser Yellowlegs
19.Least Sandpiper
20.Ring-billed Gull
21.Rock Pigeon
22.Mourning Dove
23.Great Horned Owl
24.Barred Owl
25.Chimney Swift
26.Belted Kingfisher
27.Red-bellied Woodpecker
28.Downy Woodpecker
29.Pileated Woodpecker
30.Eastern Phoebe
31.Great Crested Flycatcher
32.Eastern Kingbird
33.White-eyed Vireo
34.Blue-headed Vireo
35.Red-eyed Vireo
36.Blue Jay
37.American Crow
38.Fish Crow
39.Common Raven
40.Purple Martin
41.Tree Swallow
42.Northern Rough-winged Swallow
43.Barn Swallow
44.Carolina Chickadee
45.Tufted Titmouse
46.White-breasted Nuthatch
47.Carolina Wren
48.House Wren
49.Ruby-crowned Kinglet
50.Blue-gray Gnatcatcher
51.Eastern Bluebird
52.Veery
53.Wood Thrush
54.American Robin
55.Gray Catbird
56.Northern Mockingbird
57.Brown Thrasher
58.European Starling
59.Blue-winged Warbler
60.Northern Parula
61.Yellow Warbler
62.Yellow-rumped Warbler
63.Prairie Warbler
64.Black-throated Blue Warbler
65.Black-and-white Warbler
66.American Redstart
67.Worm-eating Warbler
68.Ovenbird
69.Kentucky Warbler
70.Common Yellow-throat
71.Yellow-breasted Chat
72.Scarlet Tanager
73.Eastern Towhee
74.Chipping Sparrow
75.Field Sparrow
76.Grasshopper Sparrow
77.Song Sparrow
78.White-throated Sparrow
79.Northern Cardinal
80.Indigo Bunting
81.Bobolink
82.Red-winged Blackbird
83.Eastern Meadowlark
84.Common Grackle
85.Brown-headed Cowbird
86.Orchard Oriole
87.Baltimore Oriole
88.House Finch
89.American Goldfinch
90.House Sparrow