Click on calendar events to go to the event detail page for more information and registration.
April 2020
Walk with a Loudoun Wildlife Conservancy naturalist at Balls Bluff Park to see the forest as it reemerges from its winter sleep. Balls Bluff covers numerous microhabitats — riparian, oak-beech, oak-hickory, flood plain — each of which is home to its own distinct plant and animal communities that will be explored. This will be part of a series that explores the forest on its cycle through the seasons. We'll track the progression from flower to leaf to fruit, observe the…
Find out more »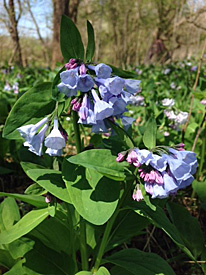 Join John DeMary, well-known local naturalist and retired teacher, on a Loudoun Wildlife Conservancy field trip to explore Balls Bluff Battlefield Regional Park, a beautiful, wooded riverside park, for the early spring wildflowers that enrich the Potomac River Valley. We will also watch for early migrating birds. If you own binoculars, please bring them. Limit 15. Registration required Registration for this event will open in February. Questions: Contact info@loudounwildlife.org.
Find out more »
+ Export Events
© 2020 · Loudoun Wildlife Conservancy