Planting Trees and Restoring Habitat: May 17 Service Day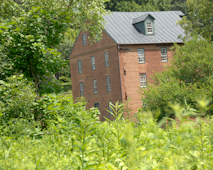 Join the Loudoun Wildlife Conservancy and Waterford on Wednesday, May 17 at 9 a.m., to plant trees and shrubs and remove invasive plants on Waterford's Phillips Farm, a Monarch waystation.
 We will have four teams, each with specific tasks assigned and headed up by members of Loudoun Wildlife and Waterford's Phillips Farm Committee.  Loudoun Wildlife is providing 100 trees and shrubs to be planted by two teams; the other teams will work on removing invasive plants. 
 The hours are 9 a.m.– 3 p.m.  We will meet behind the Waterford Mill at 9 a.m. and break for lunch at noon.  Bring your own lunch and water.  We will have additional water and snacks. 
Wear appropriate clothing: waterproof shoes, heavy work gloves, long sleeves, bug spray and a sun hat.  While we recommend loppers, heavy-duty garden clippers, and dandelion digging tools, bring any tools you think you might need for removing the invasive plants.
 In 2008 the Loudoun Wildlife and Waterford began planting trees and shrubs on the Phillips Farm along the South Fork Catoctin Creek in order to restore the riparian buffer. The habitat has been restored not only to protect the Catoctin's health and create wildlife habitat, but it is also a wonderful Monarch Waystation. While over a 1,000 trees and shrubs have been planted on the Phillips Farm since then, the farm will greatly benefit from this work.
 We'd love to have you join us and work alongside folks and learn about Waterford's fascinating history and the importance of riparian buffers and all the plants and animals that depend on this valuable habitat.
If you're interested please contact Joe Coleman at jcoleman@loudounwildlife.org.