Action Alert: Please Speak Out for Stream Protections
May 2010
We have a critical opportunity this Monday and over the coming weeks to tell our Board of Supervisors that we want environmental protections to protect not only our local streams and local water quality but to also help improve the water quality of the Chesapeake Bay.
From our stream monitoring program, we know that here in Loudoun our streams are impaired and our water quality is suffering.  Across the county, 78% of our streams are "stressed" or "severely stressed," and 75% of stream miles fail to provide optimal habitat to protect water quality.
The ordinance that our Supervisors are considering will help protect our waterways by establishing a 100' buffer along streams and requiring a vegetated buffer, not simply providing a setback from a stream with new development.  While we would prefer that it require farmers or landowners to re-vegetate existing streamside areas, it does not. Nonetheless, along with the buffer area, the ordinance recognizes the importance of the entire watershed in protecting streams and existing vegetation must be maintained.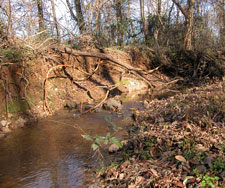 This buffer is critical to the health of our waterways here locally and all the way to the Chesapeake Bay:
The 100 ft. protection area filters out 70% of sediment and 40% of other pollutants before they can reach our streams.
It reduces erosion and stores and dissipates floodwaters to help reduce property damage.
It provides habitat for plants and animals, including shade and food, improving in-stream habitat conditions as well.
It protects streamside wetlands that extend beyond the 100 ft zone.
This ordinance, which is being called the Chesapeake Bay Ordinance, has been in place in 84 other counties and cities in Virginia (including both Fairfax and Prince William) since the early 1990s and has helped protect streams in areas closest to the Bay.
While this ordinance is still not strong enough, it is an excellent beginning to restoring local waters and ending our role in polluting the Chesapeake Bay. Our Loudoun County Planning Commission voted on May 12th to recommend that the Loudoun Board of Supervisors adopt the ordinance and we fully support that.
Riparian buffers are the single most effective means of protecting water quality.  Streams guarded by a healthy forested riparian buffer are cleaner, cooler and are more stable than those without buffers.  To read more about riparian buffers, check out our Habitat Herald article.
ase Show Your Support – Speak at the Public Hearing or Send an Email
Please come to the Public Hearing this coming Monday at 6:30 p.m. to show your support for this ordinance. It'd be great to have lots of speakers but also great to have physical presence to show we care about this. Location for Public Input Session is the Government Center in Leesburg, located at 1 Harrison Street. To sign up to speak at the public hearing, you can call (703) 777-0200 or sign up when you get there.
If you can't come or don't want to speak at the hearing, please send an email to our Supervisors (bos@loudoun.gov) and let them know how you feel.
It's very important that our Supervisors know how much we value our streams and our water quality and that we support them in approving this ordinance.